GM and welcome to the launch of Blockchain at Georgia Tech's student newsletter!
If you haven't heard of Blockchain at Georgia Tech yet, we are a student organization focused on providing educational materials and opportunities for students who are interested in blockchain technology, crypto, web3, and the broader digital assets industry.
Each week our committee members will share research and emerging projects from their respective areas, which include NFTs, Defi, Layer-1 Ecosystems, and Enterprise Solutions. Our goal is to keep you up to date on the most innovative projects in crypto by providing insightful analysis by our members and Twitter threads from other industry leaders.
From time to time we will also be highlighting projects that our students are helping build, the first being Crypto Campus!
Crypto Campus
Blockchain at Georgia Tech is excited to be included in the first Crypto Campus collection that includes 7 universities around the nation. Crypto Campus was founded by students at the University of Michigan and is working on bringing college school spirit into the metaverse with its collection of famous locations from different universities. Crypto Campus takes notable landmarks, restaurants, and campus buildings and turns them into unique 30 x 30-pixel arts.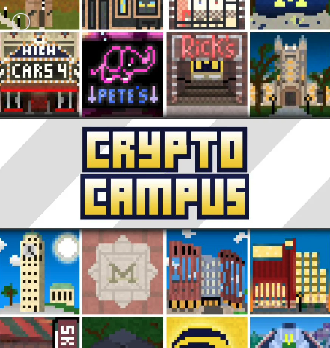 The first collection will consist of 350 tokens with a 0.06 Eth mint price. However, those that join their Discord before Friday, January 14th will be whitelisted and be able to mint for 0.04 Eth. You can join their Discord here.
Crypto Campus has also partnered with FTX and will be featured as part of the official FTX University Collection. Over the course of 2022, Crypto Campus plans to release more collections that include other universities and conduct random merch drops for its tokenholders. Check out the Crypto Campus roadmap and website here.
10 Week Crypto Fundamentals Course
If you are a Georgia Tech student that is completely new to blockchain technology, crypto, or web3, Blockchain at Georgia Tech has created a 10-week course that will cover everything you need to get started. In addition to covering the basics about the technologies being created and built, we will also explain the ideology and long-term goals that underpin the entire crypto movement. Now you can finally understand why crypto maxis always rave about decentralization.
This course will primarily serve as an introduction to a wide range of topics, including Bitcoin, Ethereum, NFTs, DeFi, DAOs, and web3, so if you are already knowledgeable about most of these areas this course isn't for you!
Our fundamentals course will be taught in-person to students at Georgia Tech but all resources and slides will be posted on our website. The full website is launching soon I promise, so be on the lookout!
What's Next?
Has your timeline been filled with talks of $MAGIC and Smol Brains over the last few weeks, but you still have no idea what Treasure.lol is? Our next post will be a deep dive into the TreasureDAO ecosystem where we'll cover what makes it one of the most exciting NFT and DeFi projects on Arbitrum.
Socials
Stay up to date with our upcoming events and posts by following us on Twitter and LinkedIn!